As I sank deeper and deeper into the azure blue sky my eyes and arms strained to find her. Small dark specks and white fish eyed dots materialised then disappeared back into the vast blue prairie sky. Even though my 8x30's weighed a mere few ounces my arms ached in sympathy with the crick in my neck, together with the vision of non focusable emptiness I was starting to loose perspective.
Only a handful of minutes ago she had been standing on my glove, or was it her sister ?, I still had trouble close up telling which was Moxie and which was Mocha, at x thousand feet I didn't have a cat in hell's chance.
These two juvenile kitchen raised anatum peregrines had successfully refined my binocular skills over the past few days.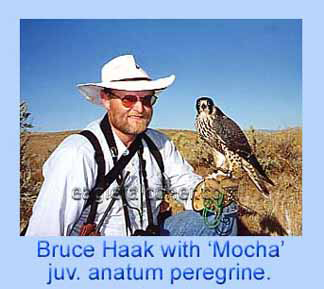 Here in the western United States the skies are BIG, finding one falcon which is starting to speck out of binocular range is just within my abilities. Keeping the tabs on a cast of young falcons, sorting them between the odd passing wild cousin and also conforming to vocal instructions offered in my ear, "Can you find where Jake is ?". Meaning 'get that receiver off your back and out of its case, and get me a direction on my dog', all the while not loosing sight of the falcons was starting to make me look a little frayed.
Flying falcons is a wonderful experience for me, as I have spent all my falconry career flying golden eagles and shortwings . To be witnessing and participating for a couple of weeks in the early formative months of these tame hacked anatum peregrine falcons is a rare treat indeed.
It was the second week of my vacation in September 97, and I was back again on the Camas Prairie, Idaho. This time I was with friend and fellow falconer Bruce Haak. Who had most graciously offered the idea of a two week falconry holiday way back in March, when he and his lovely wife Evelyn spent a few days at my farm in Yorkshire. A short interlude from a very busy schedule in Bruce's highly successful speaking tour of many of the UK's regional falconry clubs.
As usual it was conducted at a breakneck speed which all Americans seem famous for, but these whistle stop tours can only be sustained for so long, the lure of good Yorkshire food washed down with the local real ale was enough to deflect Mr. and Mrs.Haak. You see I had done my homework well, I had spent some quality time with these two on their home turf some eighteen months previous, where our mutual delight in good food, the amber liquid and a canny yarn was first appreciated.
Back in Yorkshire these delights were further cemented and the invitation for a return visit to Idaho the following September was nailed to my calendar.
Throughout the first week of my stay in Eagle, Idaho it was a hectic battle to fit in all that Bruce and I had planned between March and my arrival. The devilish simplicity and frequency of e-mail had made our scheming all that more easy.
Scheduling of my first week was centred around a visit to the Idaho Falconers Association's special meeting where I was booked to give an illustrated talk on 'Golden Eagle Falconry'. A subject of particular interest to a growing number of American falconers, following a long overdue positive attitude now being expressed by UK and European falconers towards the spectacular results from correctly handled Golden Eagles. This coupled with the embryonic signs of a relaxation in the granting of permits to trap young passage eagles, added to the vast open tracks of wilderness and game in the western United States is a recipe which should see a spectacular future for Golden Eagle falconry.
I spent time with Morley Nelson and his family at Echo Films following the success of their latest film 'World of Raptors' we talked of Morley's idea of a future project of the historic role played by falconers as raptor conservationists from the middle ages to the modern day.
Later at his home we just talked eagles, and that since we'd last met he had transcribed many of his memories to audio tape for a future book on his extraordinary life. Morley is one of America's great ambassadors for raptor protection and conservation and we should all be proud that he comes from the falconry ranks.
Each morning Bruce and I drove to the foothills in order to get the falcons up before the heat of the day.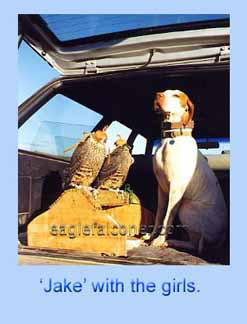 With the Subaru loaded with 'Jake the pointer' and the cast of falcons 'Moxie and Mocha' we would pound up the rough dusty tracks looking for the right spot and hopefully some chukka partridge. These falcon-bandits knew all about this hunting lark, but they were still juveniles and summer was not really tucked up in bed, they both needed a few frosts to hone an edge on their appetites. For now though they were still on that learning curve, dog fighting with passing Redtail's or Prairie falcons and playing snatch and grab with migrating swallows. When we did get a point the task at hand was to attract the attention of both falcons and with luck bring them over at a good pitch.
If the plan played out, the combined if slightly uncoordinated teamwork of the cast was impressive, they stooped like two hammers knocking in a nail. I just love that air ripping sound of stooping falcons.
One such morning, a passing pigeon dove down the hillside just as the cast was in position. Man, they really meant business as they piled on the pressure. I was impressed at the stooping power of that feral pigeon, he must have known in his heart that even though these two were juveniles the odds were not on his side. Just when we thought success was imminent, the pigeon ploughed head first into the side of large stack of straw bales way down on the agriculture flat lands. After the cries of 'Bad luck' & 'I thought that one was in the bag', Bruce suggested we nip down and try for a reflush.
I had the binoculars, 'No way man, that pigeon went in at about the sixth bale height, and those are large bales which means its about twenty feet up, and I bet its twenty feet in the speed it was going', 'That pigeon is not coming out until its well sure the coast is clear, probably some time tomorrow'. 'Anyway what do you mean nip down, that's at least a mile downhill'.
The other big problem with flying falcons at the end of summer was their tendency to drift off in the enjoyment of flying, or following and playing with migrant songbirds.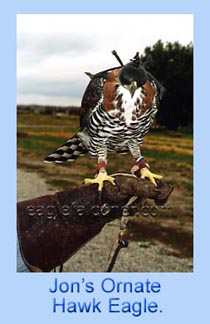 I had the opportunity to experience such an event one morning when Jon Neviaser visited me at Bruce's with his magnificent tiercel Ornate Hawk Eagle sitting hooded on the seat back of his Trooper 4x4.
As it was already planned to fly the cast that morning, Jon came along. As always the weather was clear and warm, but to start with the young falcons just messed about, Bruce could be heard muttering something under his breath, about too much quail the day before, hardly were the words out of his mouth and the girls were play dogfighting and demonstrating their aerial dexterity honed thus far. One of the cast came over at a good height just when we found 'Jake' on point, it was too good to miss and with a hell of a yell Bruce burst into action. A hill rooster rocketed from the dry grass followed by that sky ripping noise as the young peregrine made her stoop but her juvenility prevented a strike. As the cry's of 'shame' and 'ah's' subsided, we became aware that a truant from the cast had exploited the situation, Bruce lured in our valiant pupil and I could tell he was concerned.
On the day I had arrived in the US he had just recovered this falcon from a little six hour detour, she had flown about forty miles over trackless country and as he stood on the last mountain range looking into the State of Oregon, she dropped onto the lure from the great blue yonder.
As it turned out we were to experience a smaller demonstration, the falcon was playing with migrant songbirds and kept dipping below the numerous hillsides thus blocking or bouncing the transmitter signal. Further aggravated by the lack of vehicular access made the process slow, trying and somewhat testing. Once located she soon lured back in and we counted the morning a success to return home with a full team.
Later Jon and I were cruising the suburbs of Boise, the State capital looking for fox squirrels or cotton tail rabbits armed with a formidable Ornate Hawk Eagle. I don't mind admitting that I was a little concerned about launching such a predator out of a moving vehicle in the city suburbs, but Jon assured me that no one would even notice. Well I knew Boise was the centre of the raptor world but had my doubts that its residents were that blase to a jungle predator killing rabbits on their front lawn.
Sure enough, a flash of squirrel fur and this exotic coloured eagle zipped pass my nose and out the passenger window in hot pursuit. Before Jon had parked the Trooper the tiercel had the squirrel balled up in its talons. Within a moment Jon had bagged the squirrel and sat cross legged on the grass feeding the eagle a reward on the fist, and starting to answer intelligent questions to passer by's. Not once did I see that little old lady with a formidable umbrella that always turned up when I goshawked in residential domain in my youth.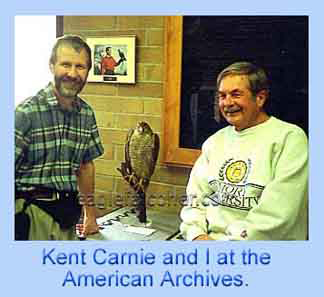 In between hawking I spent many hours with Kent Carnie at the Archives of American Falconry, a wonderful Aladdin's den for me. There I met Tom Cade, the grand master of American falconry and one of the pioneers of successful captive breeding technics that changed modern falconry in the western world.
The exact time of my arrival in Idaho was planned to coincide with the raptor migration. Bruce had filled my mind with exciting accounts of his many trapping adventures. Next best thing to falconry he assured me, I was fascinated, he had rekindled the memories of adrenalin rush I had experienced as a teenager trapping kestrels with a home made Bal Chatri on the islands sand dunes.
This was a whole different ball game, a very serious affair, it is every American falconer's fundamental right to be able to trap passage migrant indigenous raptors.
Many falconers have turned this activity into a speciality and are highly skilled in the field. A few, like Bruce are perfectionists, always on the look out for the 'honey pot track in the sky', where large numbers of raptors funnel through or over the mountain ranges.
When we collected the Dodge pick up truck from the 'Wildlife & Fish' depot it started to dawn on me that this was shaping up to be an expedition. The truck was on the large size compared to UK standards and just as well for we soon had it full. Bow nets, duo-gazza mist nets, hides and camp chairs, planks of timber and numerous poles, not forgetting boxes of paraphernalia reels of line etc., etc.,
Our journey took us into the Owyhee mountain range in south western Idaho, the hard suspension of the Dodge became more apparent as the track deteriorated. At 6,000 feet we passed Silver City, a famous old mining town of the 1860's, and one of Idaho's most picturesque ghost towns.
The track ahead narrowed to barely the width of the Dodge, hewed from the mountain side, the surface was now made up of loose rock and we were still climbing, slipping, sliding but hopefully still climbing. Finally Bruce acknowledged that the vehicle could go no further and the rest of the journey would have to be on foot.
For me personally there is no need for reincarnation, for I now know what a pack donkey has to endure, as the penny finally dropped as to why Bruce was so keen to share the delights of this particular trapping location. With a large load strapped to my back, both hands full he still suggested I might carry something else clenched in my teeth, but the thin mountain air, the steep gradient with loose footing made that impossible, after all I needed to curse as I slipped and struggled upwards. It took three journeys to backpack the contents of the Dodge up the mountain side. Once my muscles had recovered enough to allow me to stand vertical, I could fully appreciate the location, the panoramic beauty was stupendous with hills and mountains as far as the eye could focus, the view was only limited by the horizon.
It took a couple of hours to set up the traps and hide and finally get to sit down. Perched side by side with more strings in my hands than a professional puppeteer, we sat staring through the gauze viewing port.
Redtails, Coopers, Sharpshins. Goshawks, Kestrels, any one at any second could flash in on our bait, the tension was draining as I munched through our pack outs.
A Golden Eagle, female by the size of the silhouette cruised over the valley, the adrenalin rush was the equivalent to bungee jumping for me. Bruce with far more experience at attempting to de-tangle angry eagles from trap nets, was less than ecstatic at the idea and very willing to volunteer that I attempt the task. In the end the eagle just glided on past, showing little interest in our tempting offerings.
We spent over five hours sat cramped in the small hide with the only visitor to dive into our nets, a plucky little kestrel. Ah well, some days its like that.
The next part of any vacation is to go visiting, I had tentatively planned and corresponded with a number of falconers prior to my departing the UK. Now the refining and route planning had about been thrashed out, and we set about loading the Subaru with everything bar the kitchen sink.
The all important passengers were the 'girls' and 'Jake' the pointer, once their space had been defined, everything else had to fit into what was left.
Two hours after tumbling out of bed we were humming down the Interstate, although still early morning the sun was warm, and the dry desert air reminded me to apply my lip block.
We were soon to pick up Dave Skinner at Fairfield and hopefully find some sage grouse. A covey of young grouse for our two young pupils to gain experience with, would be ideal. Dave had arranged for us to meet up with the landowner, he had recently seen grouse whilst checking his stock and we hoped for any advantage in this vast landscape.
After a couple of fruitless hours searching the prairie, Bruce decided to get some wind under the falcons wings. We still had a long drive before nightfall and the falcons would relax better after the exercise.
'Moxie' stood patiently on my fist as I fiddled with the delicate little swivel and jesses. My hands more use to a swivel that spans my palm and a hood the size of a half pint pot.
Within minutes of launching herself aloft I was having difficulty in finding her in my 8x30's, mid-day heat was not the best time for air ripping action but these two seemed to be gaining lift from a small canyon. I had now lost them visually and had to rely on audio. One signal was coming in real strong but the other was faint and oscillating. In the end the consensus was that she must have dropped down unseen to the far side of the canyon and was rising above and dropping below the skyline which was effecting the strength of her transmitter signal.
Try as I may, I could not find her in the binoculars. Bruce was lazily swinging a lure when the air behind me was ripped open, as I spun round 'Mocha' was applying her air brakes to level out of a devilish stoop from her specked out pitch. As she took the lure the signal from her sister was gaining strength, being more observant than us she had seen her sister stoop in, and was anticipating the reward.
Our route continued eastwards towards Arco and skirted the foothills of the Sawtooth National Forest. To my right, the vast Snake River Plain only sub-divided by the county lines on my map. Lincoln, Blaine, Minidoka and part of Bingham made up the best part of 3,500 square miles of open country. Much of this vast terrain was pocketed by small ponds which attracted many thousands of ducks in winter. Along the Highways was corn cultivation, as we drove by huge swaths of golden stubble Bruce fair drooled at the imagined coveys of Hun partridge hidden therein. No time to stop now as we pushed on past Arco and turned northwards at Howe. The narrow road followed the 'Little Lost River' between two mountain ranges with summits up to 10,000 feet. "Is it about twenty five miles up this road that we should see the sign for the Oar's Ranch ?", queried Bruce as if I'd been this way before !. We had arranged to spend the night with Jack and Connie Oar, I had not met them in person but had corresponded with Jack for a few years. I had also hoped to have visited the last time I landed in Boise, but had clean run out of time, this visit was overdue.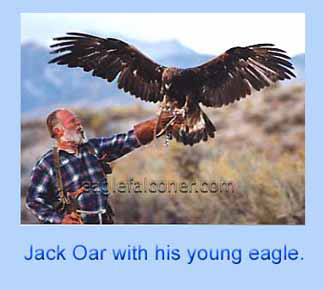 Jack is a first class falconer, dog trainer, mountain man and raptor biologist, his speciality is gyr falcons but for a good number of years he has been considering the prospect of flying a passage Golden Eagle.
As we rolled up the long drive to the Oar's ranch we were met by a bobbery pack of bird dog hounds which followed our progress until stationary, then the lead hound christened all four wheels.
Jack and Connie were extremely hospitably and after we unloaded, fed and watered all our accompanying livestock, Connie entertained us with a tour of the ranch. Out here it pays to be self sufficient, but these two are artists at this way of life and have crafted their surroundings so delightfully, that at first impressions it belies quite how rugged a life living in this location could be at times.
Connie is a skilled craftswoman at native American quillwork, and as I inspected some of her work on a warriors breast plate, the dedicated patience and fine needlework she had committed told me this was no lady that wasted her life in front of the television set.
We had arrived at the Oar's with just enough light left to fly the girls before setting down for the evening. A short drive found us far enough away from the ranch and out on the Lost River flatlands. This was more an exercise flight as time was tight, the girls were soon high above when 'Jake' came on point. It seemed like a runner as he kept adjusting and moving forward. As I surveyed the situation through the binoculars one of the falcons stooped into view in front of the dog, then through up winged over and stooped again, and again, and again. Joined by her sister both falcons stooped hard and fast as they pursued a jack rabbit across the sage. I have seen wild merlin's put on fast repetitive stoops at quarry, but these two anatum juveniles display of tenacity towards the fleeing jack was superb. As it sped out of view and into deep sage both falcons had executed at least sixty odd stoops each, and as they returned neither showed any signs of exertion proving their airworthiness beyond doubt.
Entertainment over dinner was as delightful as the food, tales recounted by Connie
with a mischievous glint and skilful ability to amuse until the final sidesplitting punch line had tears running down my face.
I retired to the little log cabin for the night, to rest my tired bones in a bed made of lodge pine bound with raw hide. Above me on the wall, was the horned skull of a Buffalo, whilst above the door was a massive Hereford bull, they both would look after me as I slept. Should I require a more real assurance, an old loaded hammer shotgun rested in the corner.
The next day dawned, and as I focused on my surroundings I looked through the glazing in the log wall to the panoramic view of the massive Lemhi Range of snowcapped mountains. This was a rugged magnificent landscape, I daydreamed of Jack on horseback with his future golden eagle and hoped that one day soon I could return to ride with him.
Our stay with the Oar's was far too short but we had to get back on the road, with a slight detour to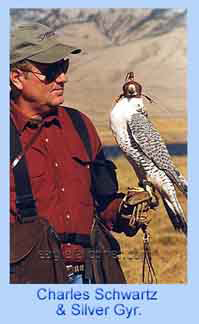 Charlie Schwartz's place at Pingree to drop off some ducks and take a quick peek at Charlie's silver gyr's, once again we were humming along the highways toward Alpine Junction in Wyoming.
Our final destination was Pinedale, Wyoming, the least populated town in the least populated State in the US. Here we were the guests of John Dahlke, a falconer and biologist working for a Wildlife Consultancy firm. John has been having some wonderful success flying longwings at sage grouse for the past several years but is looking to the near future to fly a male Golden eagle at sage grouse.
Employed during the seventies at the University of Montana by Dr. John Craighead, John Dahlke gained valuable experience breeding golden eagles and hacking the progeny by various means to test reintroduction methods. We were soon joined by that impetus character which is David Frank. Dave introduced me to the delicious flavour of Sage Grouse, which confirmed that not only was this one of the most formidable quarries of the western prairies it was also very desirable in the skillet over the outdoor camp fire.
Bruce, John, Dave and I spent the next few days hawking over the vast federally owned sage brush covered land. As the girls bounced off single grouse they were gaining valuable tactical experience with each footfull of feathers. As my vacation drew to an end I reflected on the many thousands of miles travelled, the breathtaking scenery and the formidable hospitality I had received from all I had met. As we hummed down the Interstate on our return journey and towards my inevitable long haul flight we chatted agenda's for future vacations.